Senior Consultant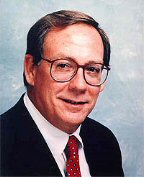 W. Frank Dell II has been a management consultant since 1977 and began his consulting and corporate experience in 1968. Prior to founding DELLMART, Frank was Vice President directing Cresap's Food and Consumer Products Practice and Senior Partner and Director of Case and Company directing its Food and Distribution Practice. He also worked earlier for Colgate-Palmolive, American Can and General Foods.
Mr. Dell has performed a wide range of assignments in the areas of strategic planning, marketing, distribution, retailing, operations, pricing, organization, productivity improvement, data processing and research. Clients have included manufacturers, retailers, wholesalers, distributors and trade associations in the United States, Canada, Europe, Russia, Middle East and Africa.
A pioneer in the concept and application of Direct Product Profitability (DPP), Mr. Dell has directed numerous major studies modeling the costs of manufacturing, retail food, chain drug and food service industries. He served as an advisor to FMI, NMRI, National Candy Wholesaler Association and Committeé International des Entreprises A Succursales (CIES).
Mr. Dell is the creator of IBIS, a buying and inventory control system; focus marketing and category management organization concepts; customer synchronization and comprehensive customer service operating concepts. His work on Total Company Productivity, Total System Profitability, Supply Chain Management for Retail and Total Store Labor Control has been well received.
Mr. Dell received a B.S. in management from Northeastern University and an M.B.A. in marketing from Iona College. He is a frequent speaker for numerous organizations, including FMI, Food Distributors International and NGA. The Foodservice Distributor, Progressive Grocer, IGA, Grocery Marketing publish his articles. Mr. Dell is a member of Strategic Leadership Forum, Institute of Management Consultants, Council of Logistics Management, Warehousing Education and Research Council, Committeé International des Entreprises A Succursales and Food Distribution Research Society. He is listed in Who's Who and is a Certified Management Consultant.
Frank is a member of the board of directors of Perekriostok Supermarkets, a company whose format and operations, he designed from its inception and of TDS Logistics, both in Moscow, Russia.